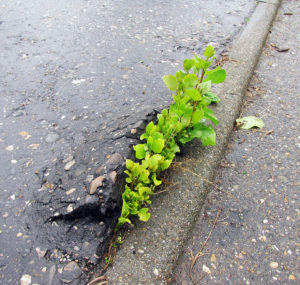 Some of you read my posts last summer, which largely had the same focus as these—reaching out to "religious nones" among us. (I'll link an article about religious nones in my next post, but they include people who do not identify with a religious group.) Maybe you are wondering why I quit blogging around August. I admit, I grew weary; I became discouraged; I didn't get as many comments as I dreamed I would.
To that admission, a pastor friend challenged me—admonished me—about patience and perseverance. He is originally from Liberia, and as a refugee who has had his share of life-and-death episodes, he speaks from experience. Though he spoke of what he felt was my lack of perseverance for a different situation, I heard it toward my blogging as he quoted Hebrews 12—"…Let us run with perseverance the race marked out for us, fixing our eyes on Jesus, the pioneer and perfecter of faith. For the joy set before him he endured the cross, scorning its shame, and sat down at the right hand of the throne of God. Consider him who endured such opposition from sinners, so that you will not grow weary and lose heart."
I will persevere this go-around, for the following reasons:
This is too important to wimp out on!
Look what Jesus did/has done/does for people—staying the course to the cross, knowing He would die there, so we could live! He did that for me. I can do this for Him.
This round will be better than last time. More strategy is being considered. My daughter, Siera Huff, is helping me—as my accountability partner, with strategy, and occasionally by writing. She writes different from me—in a sweeter, shorter, pastoral way; her posts will bring a refreshing change-up.
I'm passionate about the subjects we will touch on, and I believe they are critical for society and for the Church. Here are some of them:

Define "religious nones." Warning—this might "hit home."
Our message often seems irrelevant to our desired audience. How can we improve on that?
My friendships with Muslims and Hindus. Why?
My friendships with atheists? Why?
Ask, "What Would Jesus Do?" more often again. But for what?
That question will require us to dive into political discussions a bit.
I get annoyed by concerns about "slippery slopes," though I get caught saying it too.
A few posts asking, "who are you?" in Luke 15:1-8
Your feedback will be greatly appreciated!