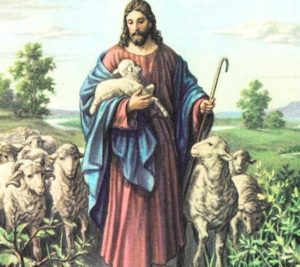 (Post 4 of the Luke 15:1-7 series of 5) Traditionally, I (Fred) have mainly viewed myself as one of the ninety-nine.
"Now all the tax collectors and sinners were coming to hear him. But the Pharisees and the experts in the law were complaining, "This man welcomes sinners and eats with them." So Jesus told them this parable: "Which one of you, if he has a hundred sheep and loses one of them, would not leave the ninety-nine in the open pasture and go look for the one that is lost until he finds it? Then when he has found it, he places it on his shoulders, rejoicing. Returning home, he calls together his friends and neighbors, telling them, 'Rejoice with me, because I have found my sheep that was lost.' I tell you, in the same way there will be more joy in heaven over one sinner who repents than over ninety-nine righteous people who have no need to repent" (Luke 15:1-7).
The ninety-nine were in quite a good place—safe enough at the moment that the shepherd left them to look for the lost lamb. The ninety-nine are referred to in the last line as "righteous people who have no need to repent." They are in a good place—children of God bringing glory to their God.
But who is that? Personally, I am a saved child of God—one who has repented of my sins and received the saving grace of God through Jesus, and now striving to live in a way that says "thank-you, God." That kind of life will have many righteous moments, and much loving-my-neighbors. But I admitted to my continued sinfulness as a human in the last two posts—Tax Collectors/Sinners/Fred & Pharisees/Fred. In essence, I am of the ninety-nine so I seek to live righteously, but it's a life-long process of transformation as a human, of getting to know my God better. In the story, the "righteous people who have no need to repent" have left this earth and have gone to heaven where there are no more temptations, no more falling to sin.
The ninety-nine in the open pasture are able to fend for themselves, momentarily, as the shepherd pursues lost ones. They are even called to join the search: "When he (Jesus) saw the crowds, he had compassion on them, because they were harassed and helpless, like sheep without a shepherd. Then he said to his disciples, "The harvest is plentiful but the workers are few. Ask the Lord of the harvest, therefore, to send out workers into his harvest field"" (Matthew 9:36-38). BUT ALWAYS REMEMBER, if you have repented and are a child of God, it is good to re-repent, and re-dedicate, and re-commit throughout this life-process of transformation.
God bless you in your journey!