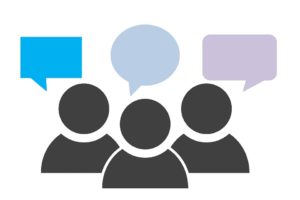 It's about how we package and deliver it. That could be a Fed Ex slogan, or for here, a discussion-point on effectively encouraging change. Whether it's a coach seeking to fire up her players, a teacher wanting his students to understand, or a preacher desiring acceptance of a biblical principle, much depends on packaging and delivery.
This occurred to me recently as a friend and I were studying a Bible lesson. As we read various proclamations of the Apostle Paul, some were more motivational to me than others. The passages were all equally important for me, but I felt more motivated to follow some over others, depending on how they were written. Here is some of Ephesians 4:
"Therefore each of you must put off falsehood and speak truthfully to your neighbor, for we are all members of one body. In your anger do not sin. Do not let the sun go down while you are still angry, and do not give the devil a foothold. Anyone who has been stealing must steal no longer, but must work, doing something useful with their own hands,that they may have something to share with those in need. Do not let any unwholesome talk come out of your mouths, but only what is helpful for building others up according to their needs, that it may benefit those who listen. And do not grieve the Holy Spirit of God,with whom you were sealed for the day of redemption. Get rid of all bitterness, rage and anger, brawling and slander, along with every form of malice. Be kind and compassionate to one another…."
Most of that paragraph includes imperative/command statements, and "do not(s)." Compare that passage to Colossians 3:12-17:
"Therefore, as God's chosen people, holy and dearly loved, clothe yourselves with compassion, kindness, humility, gentleness and patience. Bear with each other and forgive one another if any of you has a grievance against someone. Forgive as the Lord forgave you.  And over all these virtues put on love, which binds them all together in perfect unity. Let the peace of Christ rule in your hearts, since as members of one body you were called to peace. And be thankful. Let the message of Christ dwell…."
It has imperative statements, but they follow a profoundly affirming description of the listeners—"therefore, as God's chosen people, holy and dearly loved,…"
The responsiveness depends on the listener or reader, too. Some people may respond better to direct commands and admonishment rather than first being warmed-up by words of affirmation or motivation, but not typically. For a pastor who sometimes preaches, this is important to me. I seek to avoid using phrases like "we should…." and "don't do…." Ugghhh, not inspiring. Of course, it's not about packaging and delivering with a motivating style without caring about the outcome. We want the right outcome, so we package and deliver in ways that result in that.
This takes more thoughtfulness, including perhaps a helpful illustration to help the reader or listener understand and remember, but it's worth it if they respond better. For me personally, Jesus' words in John 15 are motivating:
"I am the true vine, and my Father is the gardener. He cuts off every branch in me that bears no fruit, while every branch that does bear fruit he prunes so that it will be even more fruitful….Remain in me, as I also remain in you. No branch can bear fruit by itself; it must remain in the vine. Neither can you bear fruit unless you remain in me."
Wow, as I (a branch) abide deep in Jesus (the vine/tree trunk), He will grow in and through me so my life will be much more fruitful!
May God bless you as you communicate!